that you create yourself from thousands of options
Light
Non-stick
Eco-friendly and non-toxic
Perfect cooking
9 cooking modes
Access to hundred recipes
Customisable
Create your dream Cocotte!
Do you already have the Cocotte?
Discover all accessories:

frying pans,
saucepans,
steam insert,
recipe books
Do you already have the Cocotte?
All the accessories:
pans, pots, steam baskets, recipe books...
9 cooking modes
for thousands of different recipes
Hot-water bath
Vacuum
Bread
Tagine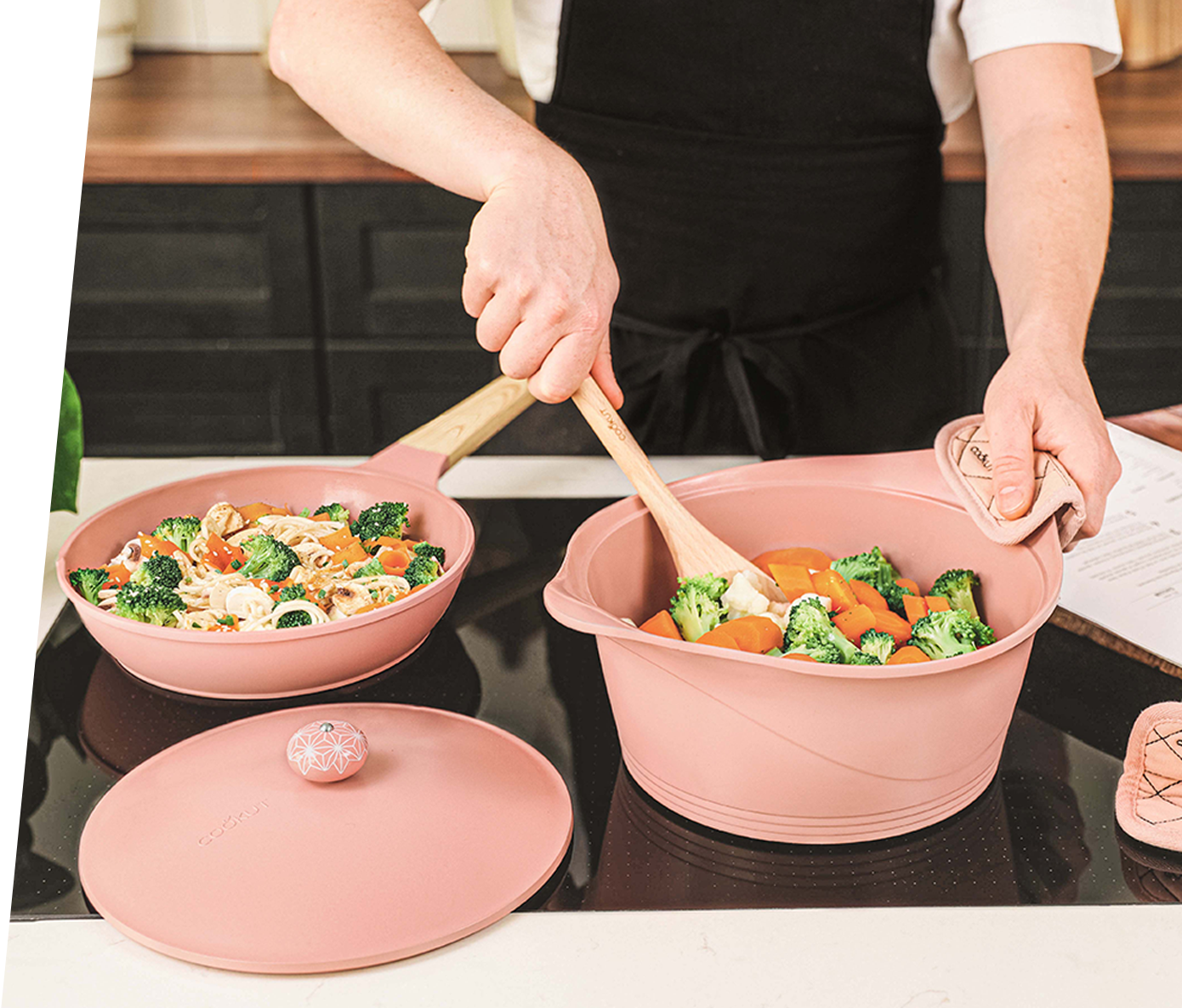 9 cooking modes for thousands of recipes!
Simmer
Steaming
Frying
Frying
Boiling
Bain marie
Sous-vide
Bread
Tajine
Free accessto hundreds of recipes!
Share your recipes and ideas with other members of our community  
Earn points and treat yourself to more Cookut products 
Accéder gratuitement à des centaines de recettes
Partage tes recettes et échange avec la Tribu
Gagne des points pour t'offrir des produits Cookut
4 times lighter than a traditional Cocotte
The Cocotte weighs 1.5 kg
and gives you the same cooking
quality as a traditional Cocotte.
Your wrists will thank you!
The non-stick coating means
you can cook with very little
or no fat at all.
4x plus légère
qu'une cocotte
traditionnelle
La Cocotte pèse 1,5 kg, pour une qualité de cuisson identique à une Cocotte traditionnelle. Vos poignets vous remercieront !
Anti-adhérente
Sans matières
grasses
Le revêtement anti-adhérent permet de cuire avec très peu ou sans matières grasses.
Compatible with all kinds of heat sources
Safe, non-toxic, PFOA-free*
The Incredible Cocotte is made from natural materials that do not pose any health risks. Its coating is mineral and uses vitrified sand. A very tough coating that is completely non-toxic, because it does not contain any petroleum-based organic products: no PFOA, PTFE, or bisphenol. Even at high temperatures, you can cook safely in the Incredible Cocotte for years to come. The range includes a cook pot, frying pan, saucepan and more.
Sustainable, eco-friendly and ethical
The Incredible Cocotte is completely eco-friendly thanks to its ultra-light design and its mineral coating which contains no petroleum-based chemicals.
The Cocotte is multi-functional like a food processor but contains no plastic, no electronics and has no planned obsolescence. Tough, durable, and sustainable, all the spare parts you could ever need for your Incredible Cocotte are readily available.
The Incredible Cocotte is manufactured according to strict social and ethical standards.
*PFOA: Perfluorooctanoic acid, a controversial substance
often used in baking products.
Saine, non toxique
L'Incroyable Cocotte est fabriquée à partir de matériaux naturels sans danger pour la santé. Son revêtement est minéral, constitué de sable vitrifié. Un revêtement très résistant et totalement sain pour la santé, car il ne contient aucun produit organique issu du pétrole : pas de PFOA, PTFE, ni bisphénol. Même à haute température et durant de longues années, vous pouvez cuisiner en toute sécurité dans la gamme de l'Incroyable Cocotte : cocotte, poêle, casserole... *PFOA : Acide Perfluorooctanoïque, substance controversée souvent utilisée dans les produits de cuisson.
Durable, écologique
La fabrication de l'Incroyable Cocotte respecte l'environnement grâce à sa conception ultra-légère et son revêtement minéral sans produits chimiques issus du pétrole. La Cocotte est multi-fonctions comme un robot cuiseur mais sans plastique, sans électronique et sans obsolescence programmée. Résistante et durable, toutes les pièces détachées de l'Incroyable Cocotte sont disponibles. La fabrication se fait selon des normes sociales et éthiques.
Cuisson parfaite
Grâce à ses matériaux et sa conception exclusive, l'Incroyable Cocotte a une température uniforme, idéale pour les plats mijotés à la cuisson longue. Il est possible également de faire rissoler sur feu vif ou de déglacer les viandes.
Auto-arrosage des viandes
Des picots sous le couvercle permettent un arrosage automatiqueen continu à l'intérieur en favorisant la condensation sous le couvercle. Cela permet d'obtenir des viandes tendres et des plats aux saveurs exceptionnelles.
Facile à laver, ne se colore pas
Même si la cocotte passe au lave vaisselle, son revêtement permet de la laver d'un simple coup d'éponge, sans frotter. Son revêtement vitrifé ne se tâche pas, quelque soit la sauce !
Deux tailles
L'Incroyable Cocotte 24 cm Pour 2 à 8 personnes Volume : 4,5 litres Diamètre couvercle : 24 cm Largeur totale : 33 cm Hauteur : 16 cm Poids : 1,5 kg L'Incroyable Cocotte 28 cm Pour 6 à 12 personnes Volume : 7 litres Diamètre couvercle : 28 cm Largeur totale : 39 cm Hauteur : 18 cm Poids : 2,3 kg
Technology designed for perfect cooking
Thanks to the materials used and its exclusive design, the Incredible Cocotte maintains a uniform temperature, ideal for slow cooking. You can also use it to brown food over a high heat or deglaze meats.
Unique bottom guaranteeing a uniform temperature, without any hot spots in the center
Studs under the lid ensure that there is continuous automatic self-basting inside by promoting condensation under the lid. This means you get tender meats and dishes with exceptional flavours.
Traditional cook pot without studs
Condensation descends along the sides
The Incredible Cocotte with studs
Condensation sprinkles downwards on food
Easy to wash, does not turn discoloured
Even though the Cocotte is dishwasher safe, the coating on it means you can clean it simply by wiping it with a sponge, without rubbing.
Its vitrified coating does not stain, whatever the sauce!
Vol: 4,5 liters
Lid diameter: 24 cm
Total width: 33 cm
Height: 16 cm
Weight: 1,5 kg
Vol: 7 liters
Lid diameter: 28 cm
Total width: 39 cm
Height: 18 cm
Weight: 2,3 kg
28 cm Cocotte2,5 kg chicken
24 cm Cocotte 1,5 kg chicken
Accessories to cook everything